This is a pre-designed fake nail. You don't need to apply your nails again. Quick and easy-just 3 minutes at home for a quick manicure.
False nails can be filed and painted with polish just like real nails. Nails can be worn for about a week. Wait a few hours or overnight before re-applying.
High quality: Our nails are made of ABS material, non-toxic and odorless, providing you with a safe and comfortable nail experience, which can be reused.
Our nails are perfect for nail salons, DIY home nail art. Ideal for weddings, dances, dating, but also for Valentine's Day and other holidays. Perfect as a gift for girlfriends, family, and friends.
You can choose from a variety of styles and colors in our store.??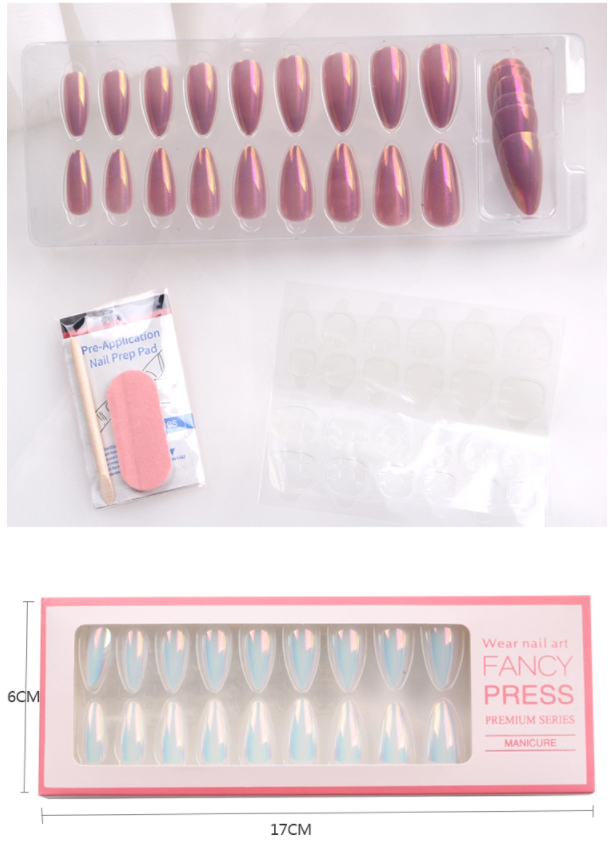 Customer Service??
We are committed to providing our customers with exquisite products at a proper price.
If you have any questions about our products please feel free to contact us.
Thank you so much for visiting and Ia??m especially grateful to anyone whoa??s purchased from me.
??Package Contents??
24pc fake nails with glue patch
24pcs Jelly tape
1pcs nail tool
How to Use
File the sides and cuticle area for an accurate fit with a manicure stick, which will wear the false nails better.
Clean your nails then remove it much easier when you want.
Select the correct size nails for each finger, apply glue stickers to nails.
Put on the false nails and press on them for 5 seconds.
File and shape your new nails if needed.
Tips for remove??
Put your nails in warm water for 2 minutes and adhesive tabs can be removed easier.
Do not remove it abruptly which may leave some mark of the nail stickers on your nail surface.
In that case, you can also clean the remaining nail stickers with water.
This nail can be reused and can be maintained for a few days. After tearing it off, you can use jelly to reuse it again. If you want to use it many times, you can buy jelly tape(Jelly tape non-hurt nails)
---
FAQ's
---
Can you use glue with these nails instead of the stickers?
Our nails are universal. Each nail has 26 pieces of jelly glue as a Giveaway. However, you can still use glue.
How long does shipping take?
Free Shipping on orders over $39.
USA:7-15days
Europe:10-20 days
Rest of World: 15-20 days
What is the size of the nail?
Our 24 piece nail set varies in size. The height can vary from 2.25 to 3 cm. The width can vary from 0.08 to 1.5 cm. Different styles and sizes will be different. They are designed to fit all sizes!
Can I use nail polish on these?
Of course, fake nails can DIY freely.
Do they harm your natural nails?
Not at all!, Just make sure before you put them on that your nails are completely dry.
Can you reuse these nails?
Our nails can be reused and can be maintained for a few days. After tearing it off, you can use jelly to reuse it again. If you want to use it many times, you can buy jelly tape(Jelly tape non-hurt nails)
---
OUR GUARANTEE
We guarantee our products for 1 year
We offer a 30 Day Faulty Item/Item Not Received Money Back Guarantee
Fast & Safe Shipping
Secure Payment Processing
We never share your information with 3rd parties